American Force, Reliable and Experienced Private Security Services in
Banning, CA
Professional, Highly Trained Guards at Very Competitive Prices
Welcome to American Force Private Security, Inc., Banning's most trusted security specialists since 2002. As a full service private security company, we provide a complete range of professional, cost-effective security services, including armed and unarmed standing guards, lock up and alarm, alarm monitoring and response, mobile patrol, fire watch, parking enforcement, access control, reception and gate guards, and event security. We design customized security programs to address your specific needs, vulnerabilities and budget. Our highly trained guards have years of experience protecting and securing a diverse range of industries, such as hospitality, residential communities, manufacturing, industrial, retail, and special events. Our reputation for reliable, dedicated service has earned us thousands of satisfied customers in the counties of Los Angeles, San Bernardino, Orange, and Riverside.
To maintain the highest level of protection for our clients, American Force extensively selects and trains our officers to the strictest of industry standards. Our licensed, trustworthy guards pass thorough FBI and California Department of Justice background checks, drug screenings, and personality tests, and also complete a rigorous training program that exceeds California's Bureau of Security and Investigative Services standards. All of our guards receive ongoing on-the-job training in the latest security techniques from our experienced supervisors.
American Force Private Security is licensed contractor, and provides dispatch services 24 hours a day, 7 days a week. Call us today to learn more about private security services in Banning, and to schedule a complimentary security consultation.
American Force provides private, dedicated full service security for:
Reception/lobbies
Hotels/motels
Entry areas
Retail shopping centers and strip malls
Hospitals and medical facilities
Construction sites
Office buildings
Business parks
Banks and credit unions
Casinos
Research facilities
Manufacturing and industrial properties
Community centers
Apartments and condominiums
Gated neighborhoods/communities
Parking lots/garages
Equipment yards
Storage facilities
Schools and universities
Restaurants
Theaters
Movie sets
Concert and sports venues
Outdoor festivals
Special events
And more
Standing Guard Service in Banning, CA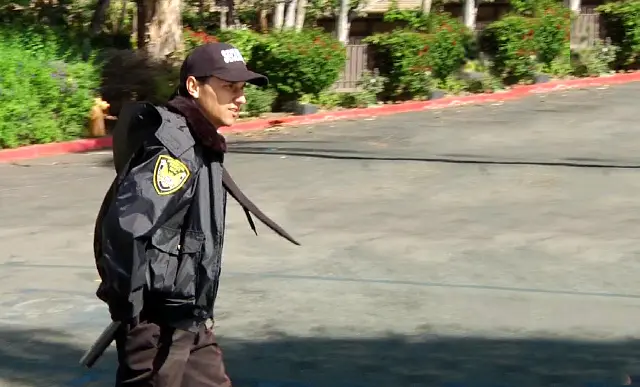 American Force's proactive, highly trained standing guards protect your people, property, and assets, while ensuring a safe and secure environment.
American Force Private Security is the leading provider of reliable, affordable standing guard service in Banning. Our professional, experienced guards are highly trained in all aspects of private security, including mobile patrol, alarm response, fire watch, and more. Whatever your security requirements, we will develop a customized plan to ensure that your facility remains secure. American Force Private Security's standing guards are available for temporary, permanent and emergency services, and can be either armed or unarmed, uniformed or in plainclothes.
Lock Up & Alarm Service in Banning, CA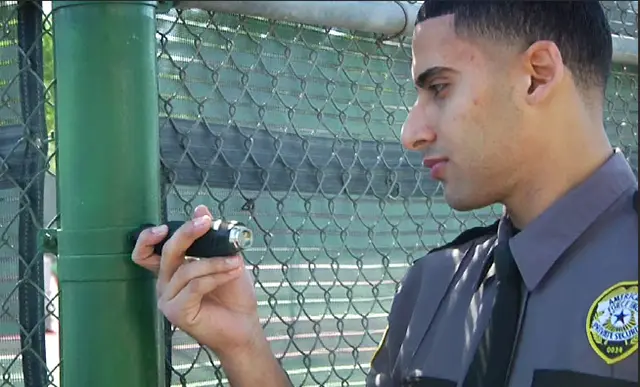 Our dependable and trusted officers allow you to rest easy knowing that they can be counted on to securely lock up and set the alarm for your business.
American Force Private Security is Banning's top provider of reliable and professional lock up and alarm services. Our highly trained, uniformed officers prevent loss and deter crime by inspecting your premises, checking all access points, and setting your alarm to ensure that your property and assets remain secure throughout the night. Our services lowers your liability risk and may even reduce your business insurance premiums. Our expertly trained officers will assess your vulnerabilities to set-up a daily lock-up and alarm routine, and design a comprehensive security plan. Their procedures may include showing up at a designated time, inspecting all windows, doors, exits and entrances, checking that all personnel have left, checking for any threats and suspicious activity, setting the alarm, and logging all observations and activity in a daily log.
Alarm Monitoring and Response in Banning, CA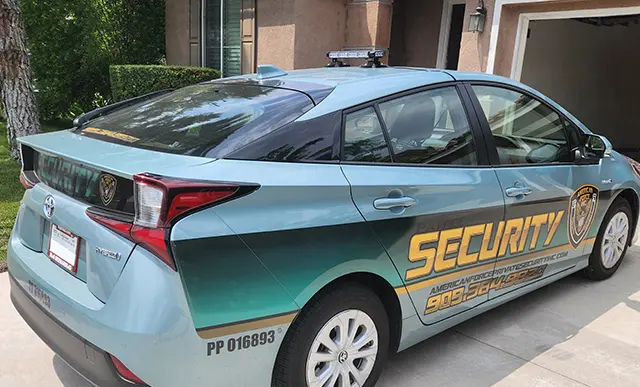 Our attentive guards are standing by to immediately respond to alarms; prepared to use the latest security techniques to handle any situation they might encounter.
American Force Private Security is Banning's best value for professional alarm monitoring and response services. Using the latest technology available in alarms, cameras and communication devices, we provide proactive surveillance to reduce liabilities and manage risk in residences, commercial businesses and industrial facilities. Our on-call guards are prepared to respond immediately to alarms, and are trained to handle a variety of scenarios if an alarm is activated. In the event of security breaches or threats our officers will promptly notify the police or fire department o and stay on-site until the situation is fully resolved. We also shut off and reset alarms in the event of a false alarm, after a thorough interior and exterior check of your facility.
Mobile Vehicle Patrol, Banning, CA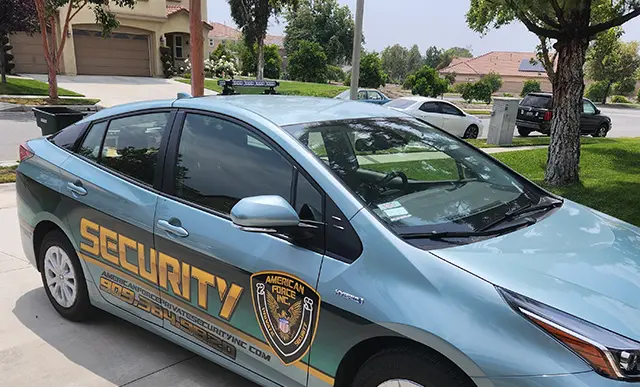 Our mobile vehicle patrol service provides an effective and cost-efficient crime deterrent when you require highly visible security and surveillance over a large area.
American Force Private Security offers outstanding mobile patrol services in Banning performed by our highly-trained security officers in fully equipped, security-marked vehicles. Our mobile patrol units are ideal for large sites such as gated communities, construction sites, and parking garages, that require security coverage, because they allow for increased visibility of the security presence and thorough protection of the site, deterring potential crime. Our experienced, uniformed guards can quickly identify suspicious activity, manage difficult situations, communicate with paramedics, the fire department or local law enforcement when needed, and more. All patrol vehicles are fully equipped with a radio dispatch system, first aid kit, fire extinguisher, jumper cables, and flares. We have marked and unmarked patrol cars and golf carts, and our armed or unarmed officers can be contracted for one visit or multiple visits per day on a temporary, ongoing or emergency basis.
Bike and Foot Mobile Patrol, Banning, CA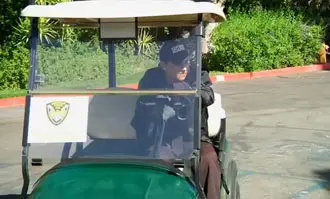 Our armed and unarmed bike and foot mobile patrol guards provide security for large areas that cannot be properly managed by mobile vehicle patrols.
American Force Private Security offers affordable, professional bike and foot mobile patrol services in Banning. Our reliable bike and foot mobile patrol officers discourage vandalism and crime, increase neighborhood safety, and reduce liability risk while maintaining a safe environment for your facility. Our armed and unarmed officers are highly trained in all aspects of mobile patrolling, from enforcing parking and safety regulations to communicating with paramedics, the fire department or local law enforcement promptly and effectively. We provide bike and foot mobile patrol services on a temporary, ongoing or emergency basis, which can be scheduled for one visit or multiple visits per day.
Event Security in Banning, CA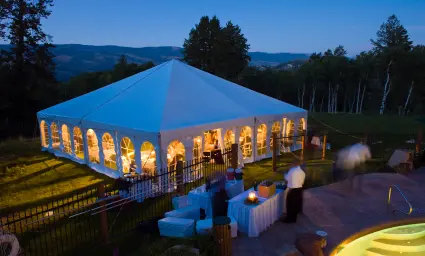 Our experienced guards, who have received specialized training in event security, will ensure a safe and secure environment for your attendees.
American Force Private Security is committed to helping your Banning special occasion run safely and smoothly. We provide security and guest management within and at the entrance of your event. Our carefully selected, highly-trained security professionals expertly handle all aspects of event security, including crowd control, parking lot security, front door access, vehicle access, property surveillance, and security planning. Our security staff are specialists have years of experience providing discreet, effective service at concerts, movie shoots, sporting events, fundraisers, and parties. We will design a comprehensive, customized security plan that clearly outlines the number and placement of uniformed or plainclothes officers, crowd management, evacuation procedures, emergency plans, threat assessment, and risk mitigation.
Parking Enforcement, Banning, CA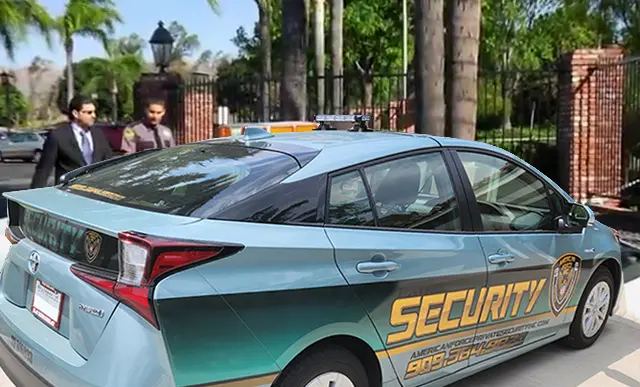 Retain your valuable parking spaces and enforce parking restrictions with American Force's experienced security guards.
American Force Private Security offers the best in professional, cost-effective parking enforcement services for Banning events, permit parking lots, and permanent parking facilities. We understand the importance of protecting parking spaces for your staff and customers, which is why our security personnel are highly trained in handling all aspects of parking enforcement, including issuing citations and warnings, managing conflict, parking lot safety, and vehicle towing. Our uniformed guards control access to your lot and discourage unauthorized parking in addition to preventing loitering, littering, vandalism, theft, crime, and property damage. We offer parking patrols on a predictable or random schedule, and on-site parking management services on a short-term or continual basis.
Fire Watch Service, Banning, CA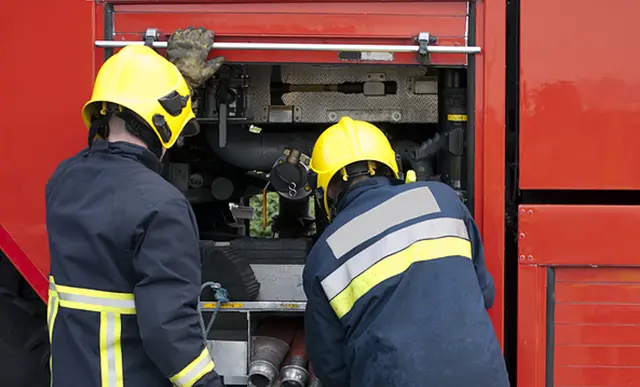 When your fire monitoring equipment is down, our fire watch guards will patrol the vulnerable area and stay vigilant for any signs of smoke or fire.
American Force Private Security is the trusted choice for fire watch services in Banning. Our expert fire watch services ensure that your property and personnel are sufficiently protected in accordance with the California Fire Code. Our dedicated fire watch officers are extensively trained to prevent fires and respond immediately to fire-related incidents. Whether your fire protection system is out of service or you simply require fire watch services for an event, our experienced personnel will patrol all areas, look for signs of fire or smoke, maintain a fire watch, and in the event of an emergency use a fire extinguisher and assist in carrying out evacuation procedures. They are also equipped with two-way radios to allow them to immediately notify the fire department of any emergencies.
Front Reception & Lobby Desk Guards, Banning, CA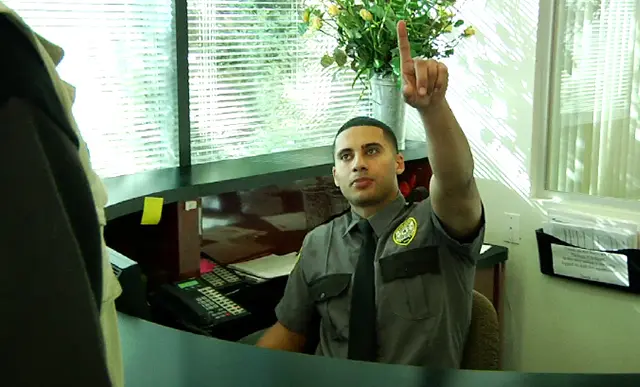 Positioning one of our security guards at your front reception or lobby desk increases building safety, deters crime and reduces liability risk.
American Force Private Security provides quality, professional front reception and lobby desk security services in Banning. Our uniformed security guards provide are highly trained in all aspects of front reception and lobby area security for your residence or business, including access control, visitor log-in, escorts, lock up and alarm, daily activity reports, alarm monitoring and response, and concierge services. Additionally, they can greet and provide assistance to tenants and visitors, monitor arrivals and departures, and sign for package deliveries.
American Force Private Security Inc. Banning - 92220, California (CA)
Area code (951)
Cards We Accept




Reviews
i have a commercial building in Fontana before hiring American force private security i had two incidents of breaking in.I have been working with them for two years and they are doing a great job! I would highly recommend this company to any Client looking for security guard service for his business.
Recent Clients
City of San Bernardino

Hayden Industrial

Borders

ERRG National Construction Company

Gymboree Retail Stores

Joseph A Banks

Nike Factory

Homeowners Association in the Inland Empire Aero postal

Lens Crafters

The Mat Company

Ahern Rentals

Daimio Construction Company

Claire's

Games Stop

Office Depot

Rite Aid and Ross

Super Cut

Joanne's

Griffith Construction Company

INVISO Auctions

Victoria Country Club

Excalibur Property Management

Empire Property Management

Mesa Property Management

Bevan and Brock Property Management

Albertsons

More clients are available upon request